F3
CBASP: Die Charakteristika der Gruppentherapie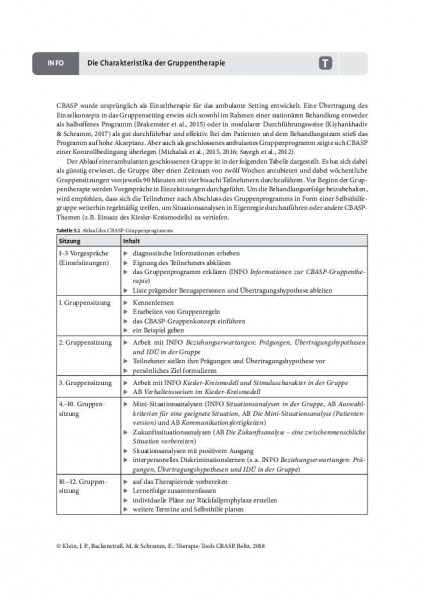 Beschreibung
In diesem Informationsblatt finden Therapeutinnen den Ablauf der CBASP-Gruppentherapie übersichtlich dargestellt.
Literatur: Kiyhankhadiv, A. & Schramm, E. (2017). Manual zur interpersonellen Modulgruppe. SVH Verlag. Michalak, J., Probst, T., Heidenreich, T., Bissantz, N. & Schramm, E. (2016). Mindfulness-Based Cognitive Therapy and a Group Version of the Cognitive Behavioral Analysis System of Psychotherapy for Chronic Depression: Follow-Up Data of a Randomized Controlled Trial and the Moderating Role of Childhood Adversities. Psychotherapy and Psychosomatics, 85, 378–380. Michalak, J., Schultze, M., Heidenreich, T. & Schramm, E. (2015). A randomized controlled trial on the efficacy of mindfulness-based cognitive therapy and a group version of cognitive behavioral analysis system of psychotherapy for chronically depressed patients. J Consult. Clin Psychol., 83, 951–963.
Für die Filterung wurden keine Ergebnisse gefunden!