F4
Angststörungen: Metakognitive Techniken – Assoziationsspaltung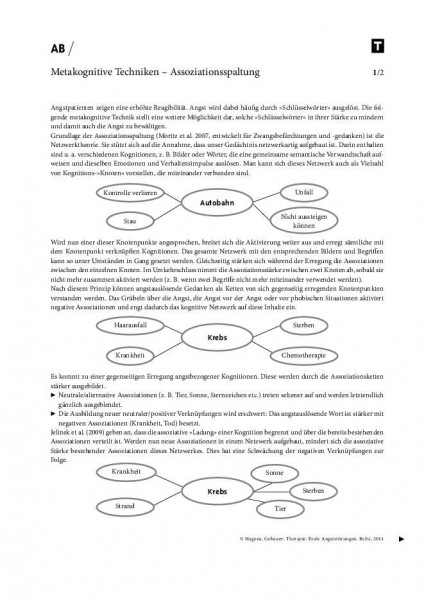 Beschreibung
Das Arbeitsblatt (angelehnt an Jelinek et al., 2009) ist eine Handlungsanleitung für Therapeutinnen und orientiert sich an der von Moritz (2007) entwickelten Technik zur Behandlung von Zwangsgedanken. Diese Methode wird auf diesem Arbeitsblatt angewandt auf die Themen und Inhalte von angstauslösenden Gedanken. Ziel dieser Intervention ist es, Patienten zu ermöglichen, ihre Angstkognitionen, die oft netzwerkartig verknüpft sind, abzuschwächen.
Literatur: Jelinek, L., Hottenrott, B. & Moritz, S. (2009). Assoziationsspaltung – eine neue Intervention zur Behandlung von Zwangsgedanken. Notfall & Hausarztmedizin, 24–28. Moritz, S., Jelinek, L., Klinge, R. & Naber, D. (2007). Fight fire with fireflies! Association splitting: a novel cognitive technique to reduce obsessive thoughts. Behavioural and Cognitive Psychotherapy, 35, 631–635.
Für die Filterung wurden keine Ergebnisse gefunden!