F2
Psychosen: Wie sind meine Probleme entstanden: ungewöhnliche Überzeugungen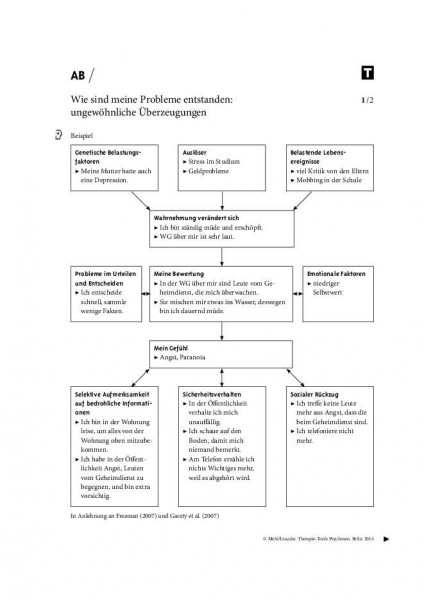 Beschreibung
In der Therapie mit psychotischen Patienten wird mithilfe dieses Arbeitsblattes gemeinsam mit der Patientin erarbeitet, wie ungewöhnliche Überzeugungen entstanden sind. Es wird zunächst ein Beispiel gegeben und dann die Abbildung mit der Patientin gemeinsam ausgefüllt. Den theoretischen Hintergrund bilden Modelle von Freeman (2007) und Garety et al. (2007).
Literatur: Freeman, D. (2007). Suspicious minds: the psychology of persecutory delusions. Clinical Psychology Review, 27 (4), 425–457. Garety, P.A., Bebbington, P., Fowler, D., Freeman, D. & Kuipers, E. (2007). Implications for neurobiological research of cognitive models of psychosis: a theoretical paper. Psychological Medicine, 37 (10), 1377–1391.
Dieses Material ist Bestandteil von:
Für die Filterung wurden keine Ergebnisse gefunden!