F2
Psychosen: Wie sind meine Probleme entstanden IV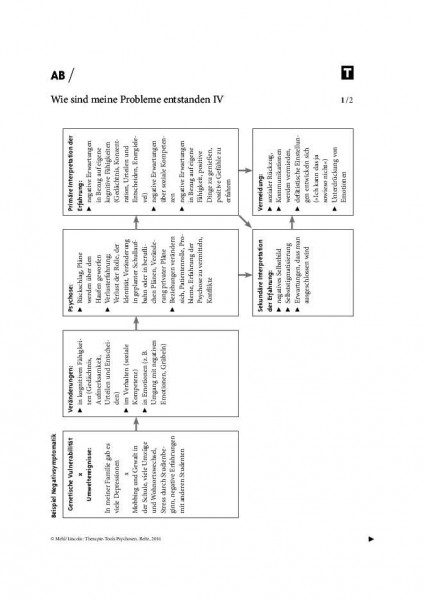 Beschreibung
Das Arbeitsblatt ist in der Therapie mit psychotischen Patienten einzusetzen und bezieht sich auf die Negativsymptomatik. Den theoretischen Hintergrund bildet das theoretische Modell zur Erklärung der Entstehung und Aufrechterhaltung von Negativsymptomatik von Staring et al. (2013). Es postuliert, dass eine genetische Vulnerabilität und belastende Umweltereignisse interagieren und zu Veränderungen führen (z.B. nachlassende kognitive Fähigkeiten, Veränderung im sozialen Verhalten, emotionale Veränderungen). Das Arbeitsblatt stellt das Modell grafisch dar und gibt zunächst ein Beispiel vor. Anschließend wird eine leere Vorlage mit dem Patienten gemeinsam ausgefüllt.
Literatur: Staring, A.B., Ter Huurne, M.A. & van der Gaag, M. (2013). Cognitive Behavioral Therapy for negative symptoms (CBT-n) in psychotic disorders: A pilot study. Journal of Behavior Therapy and Experimental Psychiatry, 44 (3), 300–306.
Dieses Material ist Bestandteil von:
Für die Filterung wurden keine Ergebnisse gefunden!