F2
Psychosen: Zwei Wege der kognitiven Verarbeitung (Le Doux, 1989)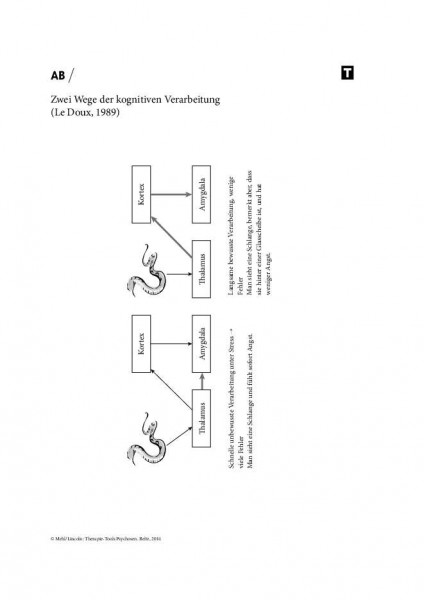 Beschreibung
Das Arbeitsblatt ist in der Therapie mit psychotischen Patienten einzusetzen. Die Patientin wird über mögliche Denkverzerrungen aufgeklärt, die eine Rolle bei der Entwicklung der Wahnüberzeugung gespielt haben könnten. Die Therapeutin kann ein oder zwei Beispiele für Denkfehler unter Stresseinfluss nennen. Sie kann auf das Modell der Amygdala von LeDoux (1989) verweisen, das auf diesem Arbeitsblatt erklärt wird und die Effekte der zwei Wege der emotionalen Verarbeitung veranschaulicht: Die schnellere und nicht bewusste Route leitet Informationen (wie die Anwesenheit einer Schlange) direkt vom Thalamus zur Amygdala weiter und man empfindet Angst. Bei dieser schnellen Weiterleitung passieren aber viele Fehler. Die bewusste Route führt vom Thalamus über den Kortex zur Amygdala, dieser Weg ist zwar langsamer, aber weniger fehlerbehaftet (man bemerkt, dass die Schlange hinter einer Glasscheibe ist).
Literatur: LeDoux, J.E. (1989). Cognitive-emotional interactions in the brain. Cognition and Emotion, 3, 267–289.
Für die Filterung wurden keine Ergebnisse gefunden!