F5
Regulation des Körpergewichts bei Essstörungen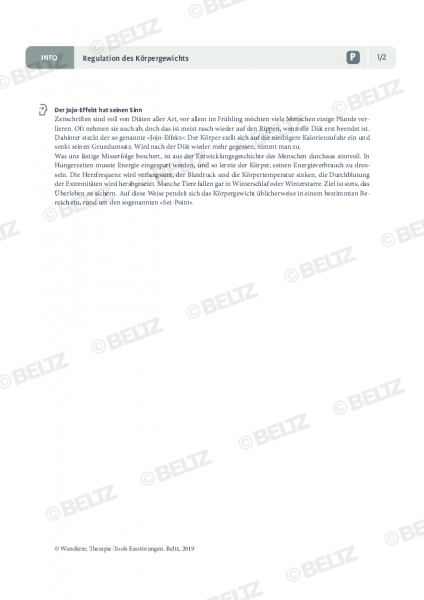 Beschreibung
Diese Patienteninformation befasst sich mit der Regulation des Körpergewichts, indem sie u.a. die Experimente von Keys et al. (1950) und Sims et al. (1968) schildert, welche z.B. die gesundheitsschädlichen Wirkungen von restriktiver Ernährung behandeln.
Literatur: Keys, A., Brozek J., Hentschel, A., Mickelsen, O. & Taylor H.L. (1950). The biology of human starvation. Minneapolis: University of Minnesota Press. Sims, E.A., Goldman, R., Gluck, C., Horton, E.S., Kelleher, P. & Rowe, D. (1968). Experimental obesity in man. Transcript of the Association of American Physicians, 81, 153–170.
Dieses Material ist Bestandteil von:
Für die Filterung wurden keine Ergebnisse gefunden!