F6
Kaufsucht: Fragebogen zum pathologischen Kaufen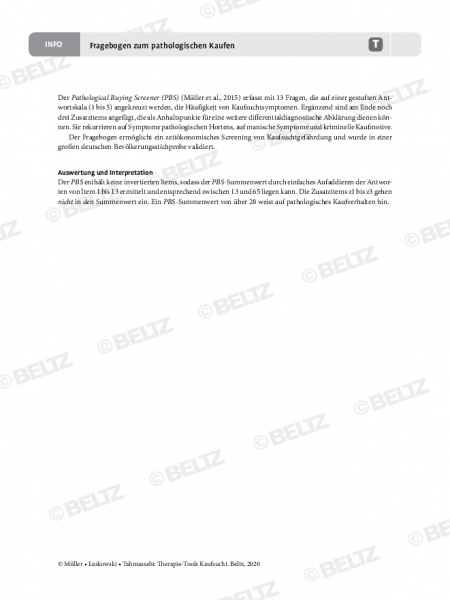 Beschreibung
Der "Pathological Buying Screener" (PBS; Müller et al., 2015) ermöglicht ein zeitökonomisches Screening von Kaufsuchtgefährdung und wurde an einer großen deutschen Bevölkerungsstichprobe validiert. Das Infoblatt gibt Therapeutinnen Hinweise zur Anwendung, Auswertung und Interpretation des Fragebogens.
Literatur: Müller, A., Trotzke, P., Mitchell, J.E., de Zwaan, M. & Brand, M. (2015). The Pathological Buying Screener: Development and psychometric properties of a new screening instrument for the assessment of Pathological Buying symptoms. PLoS One. 10 (10): e0141094.
Dieses Material ist Bestandteil von:
Für die Filterung wurden keine Ergebnisse gefunden!