F6
Kaufsucht: Pathological Buying Screener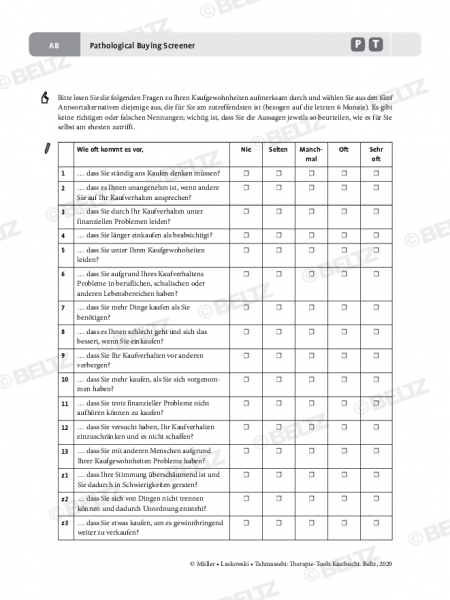 Beschreibung
Der "Pathological Buying Screener" (PBS; Müller et al., 2015) ermöglicht ein zeitökonomisches Screening von Kaufsuchtgefährdung. Er erfasst mit 13 Fragen, die auf einer gestuften Antwortskala (1 bis 5) angekreuzt werden, die Häufigkeit von Kaufsuchtsymptomen. Ergänzend sind am Ende noch drei Zusatzitems angefügt, die als Anhaltspunkte für eine weitere differenzialdiagnostische Abklärung dienen können. Sie rekurrieren auf Symptome pathologischen Hortens, auf manische Symptome und kriminelle Kaufmotive. Der Fragebogen wurde an einer großen deutschen Bevölkerungsstichprobe validiert.
Literatur: Müller, A., Trotzke, P., Mitchell, J.E., de Zwaan, M. & Brand, M. (2015). The Pathological Buying Screener: Development and psychometric properties of a new screening instrument for the assessment of Pathological Buying symptoms. PLoS One. 10 (10): e0141094.
Dieses Material ist Bestandteil von:
Für die Filterung wurden keine Ergebnisse gefunden!