F6
Kaufsucht: Fragebogen zum zwanghaften Horten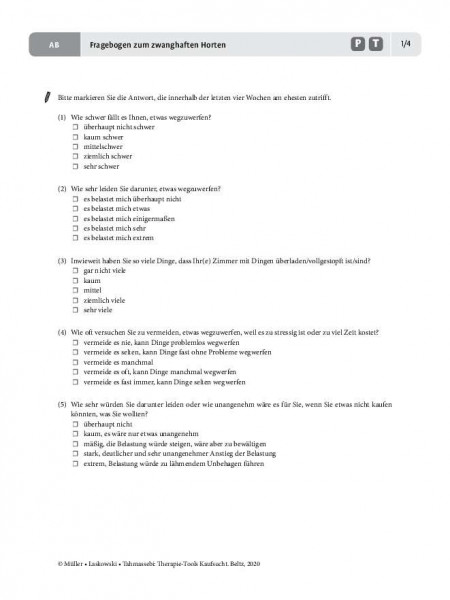 Beschreibung
Der "Fragebogen zum zwanghaften Horten" (FZH; Müller et al., 2009) erfasst mit 19 Fragen Symptome pathologischen Hortens. Das Antwortformat ist fünfstufig von 0 bis 4. Kernsymptome von pathologischem Horten sind die Akquise von unnützen oder objektiv wertlosen Gegenständen bei gleichzeitiger Unfähigkeit, sich wieder von den Dingen zu trennen. Im Zuge dessen kommt es zu Unordnung bis hin zur Vermüllung. Entsprechend hat der FZH folgende drei Subskalen: (1) Unordnung, (2) Schwierigkeiten, etwas wegzuwerfen und (3) Erwerb. Der FZH ist eine modifizierte deutsche Version des ursprünglich von Frost et al. (2004) entwickelten "Saving Inventory-Revised" (SI-R, 24 Items), die von Müller et al. (2009) validiert wurde.
Literatur: Frost, R.O., Steketee, G. & Grisham, J. (2004). Measurement of Compulsive Hoarding: Saving inventory-revised. Behavior Research and Therapy, 42 (10), 1163–1182. Müller, A., Crosby, R.D., Frost, R.O., Leidel, B., Bleich, S. et al. (2009). Fragebogen zum zwanghaften Horten (FZH) – Validierung der deutschen Version des Saving Inventory-Revised. Verhaltenstherapie, 19 (4), 243–250.
Dieses Material ist Bestandteil von:
Für die Filterung wurden keine Ergebnisse gefunden!