F6
Kaufsucht: Material Values Scale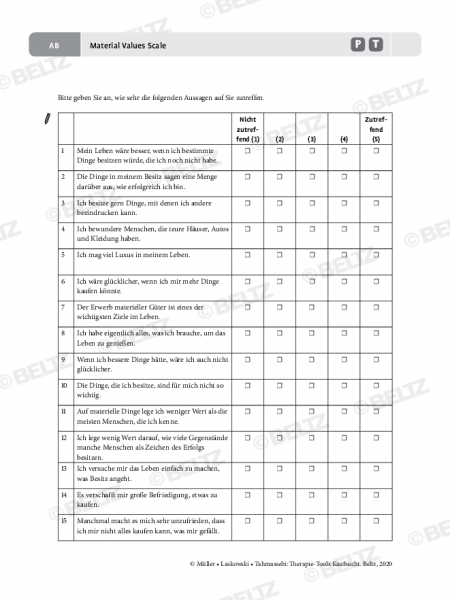 Beschreibung
Die Kurzversion der "Material Values Scale" (MVS; Richins, 2004) dient der Erfassung der materiellen Werteorientierung. Gemeint sind damit persönliche Überzeugungen bezüglich der zentralen Bedeutung von materiellem Besitztum für Lebenszufriedenheit, Erfolg und Wohlbefinden. Der Fragebogen besteht aus 15 Items, die anhand einer gestuften Antwortskala von 1 bis 5 beantwortet werden. Die vorliegende MVS ist die deutsche, validierte Fassung (Müller et al., 2013) der englischsprachigen Originalversion.
Literatur: Müller, A., Smits, D.J., Claes, L., Gefeller, O., Hinz, A. & de Zwaan, M. (2013). The German version of the Material Values Scale. Psycho-Social-Medicine, 10. doi.org/10.3205/psm000095. Richins, M.L. (2004). The Material Values Scale: Measurement Properties and Development of a Short Form. Journal of Consumer Research, 31 (1), 209–219.
Dieses Material ist Bestandteil von:
Für die Filterung wurden keine Ergebnisse gefunden!