F6
Schematherapie: Notfallplan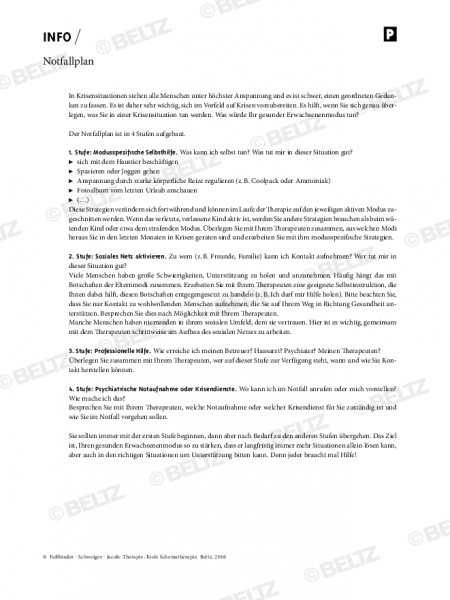 Beschreibung
In diesem Informationsblatt wird ein Leitfaden für das Erstellen von Notfallplänen in vier Stufen mit vielen Beispielen für jede Stufe vorgestellt. Er eignet sich v.a. für Patienten, die in schwere Krisen geraten (z. B. Patienten mit Borderline-Persönlichkeitsstörung). Hier ist ein festes Vorgehen angebracht.  Patienten können am Anfang häufig in der Krise noch nicht einschätzen, in welchem Modus sie gerade sind und was sie genau brauchen. Es empfiehlt sich deshalb, zunächst einen allgemeinen Notfallplan zu erarbeiten und die modusspezifischen Strategien im Laufe der Therapie mehr und mehr einzuweben. Es ist sehr hilfreich, die letzten Krisen gemeinsam mit dem Patienten auszuwerten und zu analysieren, aus welchem Modus heraus der Patient in Krisen geraten ist. Jeder Therapeut sollte entsprechend seiner individuellen Grenzen festlegen, wie und wann er von den Patienten erreicht werden kann.  
Literatur: Nadort, M., Arntz. A., Smit, J.H., Giesen-Bloo, J., Eikelenboom, M., Spinhoven, P., van Asselt, T., Wensing, M. & van Dyck, R. (2009). Implementation of outpatient schema therapy for borderline personality disorder with versus without crisis support by the therapist outside office hours: A randomized trial. Behaviour Research and Therapy, 47, 961–973.
Dieses Material ist Bestandteil von:
Für die Filterung wurden keine Ergebnisse gefunden!